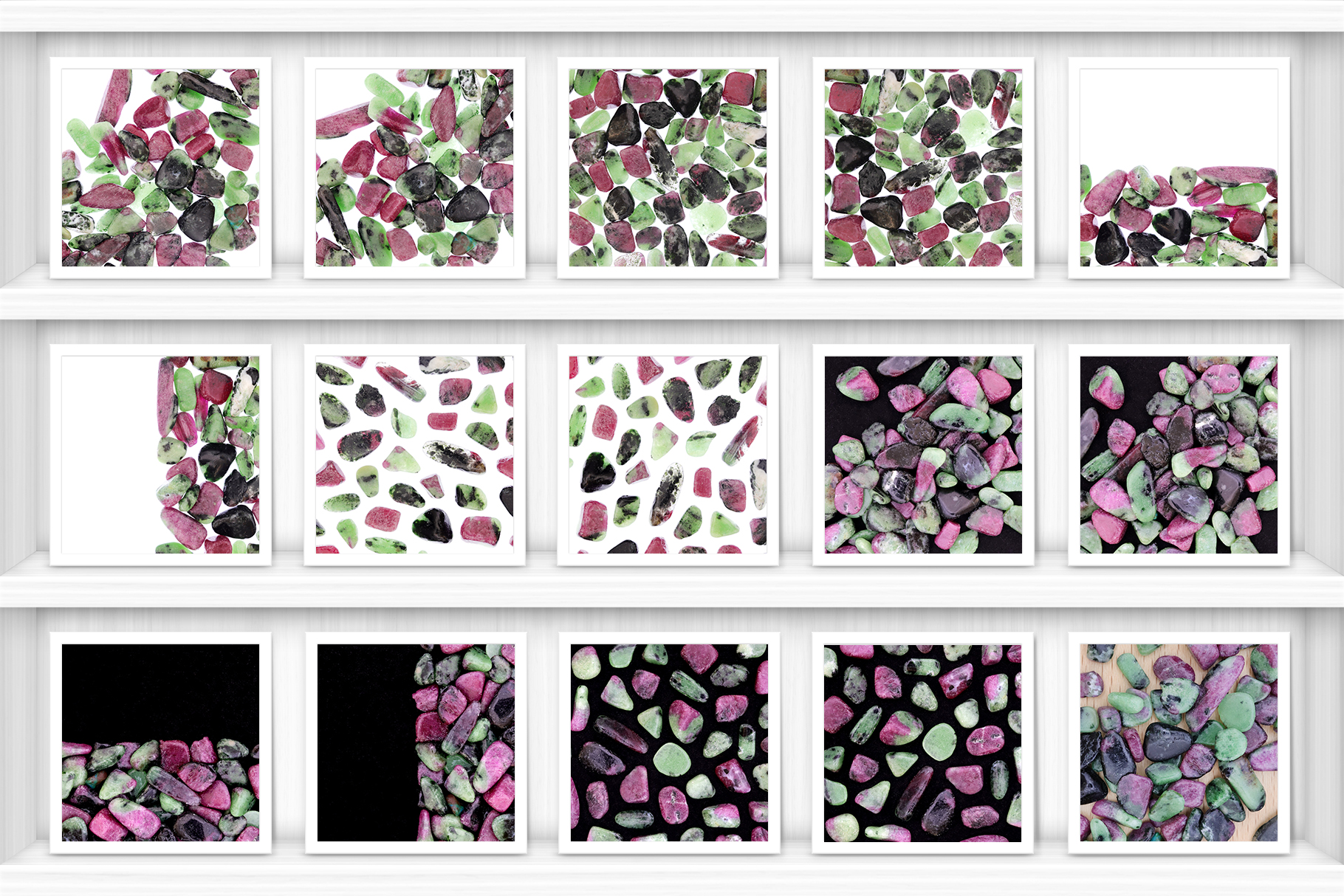 You can choose any interesting angle. Ruby Zoisite mineral stones are randomly scattered and evenly laid out, poured all together and divided into half of the image for easy text addition so that the artwork looks more professional. To compose your own picture of stones, a special file has been created, which contains stones in the form of a mosaic on isolated white background in * .psd (Adobe Photoshop) format.
About Ruby Zoisite Mineral
Ruby Zoisite is great for amulets that will help strengthen family relationships. Ruby Zoisite will help you find your happiness and love. This magical mineral helps to get rid of laziness, speed up your actions, which in the future will lead you to the long-awaited success. Ruby Zoisite will help you stimulate creativity, independence and originality of your personality. It helps good people to translate negative energy into positive. In general, this stone is intended for people who often perform in front of a huge audience, because it develops eloquence, helps to express their emotions, to stand on stage with dignity. If you have this gem at home, then you will find harmony and comfort.
Features:
High Quality
High Resolution: 6000 x 4600 Px, 83 x 55 Inches, 72 Dpi
Files Extension: Jpg
Quantity: 46 Pcs
Orientation: Horizontal and vertical.
12000 x 4600 Px *.psd Photoshop file with stones on white isolated background
What You Get: Zip Archive with 46 Ready to Use Ruby Zoisite Backgrounds. Fresh & Modern Textures Pack with High Resolution Files: 6000 x 4600 px.
Also available in:
Etsy Art Station Creative Fabrica
You Work For Them Design Bundles Filter Grade
Goods with Ruby Zoisite textures available in:
~ Thank you & Enjoy using ~