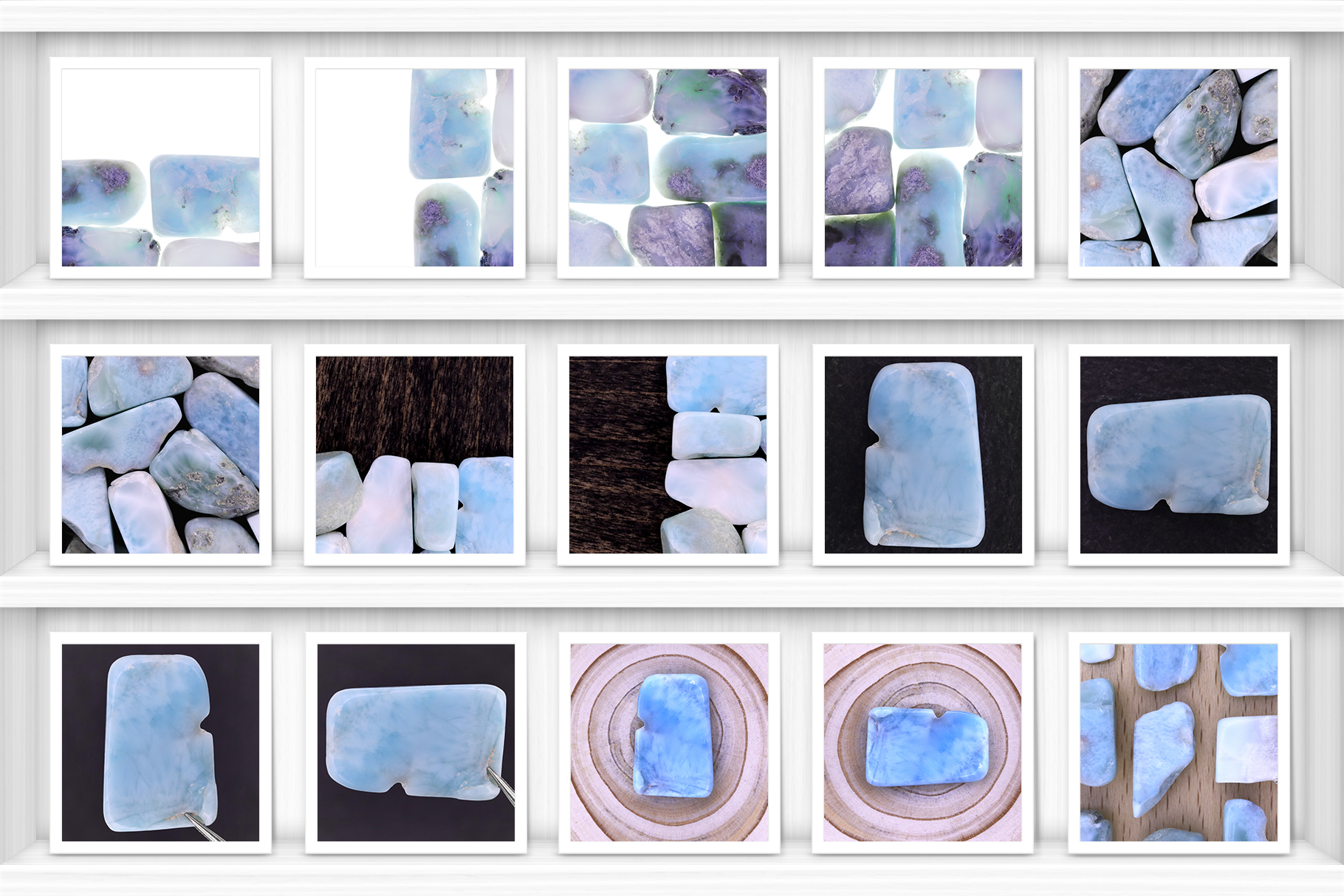 You can choose any interesting angle. Larimar mineral stones are randomly scattered and evenly laid out, poured all together and divided into half of the image for easy text addition so that the artwork looks more professional. To compose your own picture of stones, a special file has been created, which contains stones in the form of a mosaic on isolated white background in * .psd (Adobe Photoshop) format.
About Larimar Mineral
Larimar harmonizes our psyche and mentality. Under its influence, our thoughts come in order, the emotional background and the channel for receiving information are stabilized. In addition, larimar helps well in understanding the picture of the universe. Larimar symbolizes prosperity, peace, love. Larimar is also very useful for people of creative professions – he helps to reveal talent, discover new facets, and develop new abilities. The Larimar mineral is so saturated with positive energy that it can remove all negativity from the human biofield. This is a symbol of bright feelings and joy, which, with its constant presence, will give the owner spirituality and inexhaustible hope, will help to overcome apathy and depressive states. Larimar is considered a godsend for sensitive and emotional people, as it has a positive effect on the nervous system. Its properties allow you to find spiritual harmony, prudence.
Features:
High Quality
High Resolution: 6000 x 4000 Px, 83 x 55 Inches, 72 Dpi
Files Extension: Jpg
Quantity: 36 pcs
Orientation: Horizontal and vertical.
*.psd Photoshop file with white background isolated stones included
What You Get: Zip Archive with 36 Ready to Use Larimar Backgrounds. Fresh & Modern Textures Pack with High Resolution Files: 6000 x 4000 px.
Also available in:
Etsy Art Station Creative Fabrica
You Work For Them Design Bundles Filter Grade
Goods with White Turquoise textures available in:
~ Thank you & Enjoy using ~